When you start living a sustainable lifestyle, you might need to swap some household items for green alternatives. Standard supplies like plastic boxes and single-use snack bags won't support your eco-friendly values. Switch them out for these storage containers to live a greener lifestyle.
Bamboo Containers
Using wood to store your belongings might seem against sustainable values, but bamboo is different. Trees develop slowly over many years, while bamboo can grow up to 100 centimeters daily, so it quickly replenishes itself in supportive environments. It's an excellent option for general storage solutions like toy boxes or wardrobes.
Ceramic Boxes
You'll enjoy numerous benefits when switching from plastic to ceramic containers for food storage. The durable material holds up well in the dishwasher, so you don't need to worry about heat warping. Ceramic boxes also won't absorb smells because they're nonporous. Find ceramic food storage solutions in various colors and styles to match your dinnerware and they'll fit right in with your home.
Aluminum Containers
Sustainable households are turning to aluminum storage containers for eco-friendly organization. Brands can easily turn it into any desired shape, while consumers get to recycle the material when they need something new. Aluminum is also excellent for long-term use because it resists moisture and mold, even in humid environments.
Aluminum storage containers under your house or in your attic will keep your belongings safe from the elements. The material won't get moldy or warped while supporting heavy objects. It's another helpful option to consider if you need the most sustainable storage containers.
Glass Boxes
People love using glass to store their belongings because it's useful in multiple ways. The nonporous surface creates stain and odor-free food storage solutions. It's also freezer friendly, so you can prep fruit smoothie ingredients and freeze them until you want to cool off on a hot summer day.
Glass containers may also help your organizational needs. A small see-through box will reveal the tiny things you want to store, like nail polish bottles or Band-Aids.
Remember — glass can get heavy as your storage containers get bigger. You may need a lightweight alternative if you're looking to lift large belongings onto shelves or platforms.
Mason Jars
There are many ways to reuse Mason jars, so they're an eco-friendly storage container many people rely on. You can use them as glasses for beverages, food storage and prep, decorative containers for preserved floral arrangements or storage for small things like crayons. Upgrade your storage skills by investing in a label maker and your Mason jars could become the ultimate organizational solution.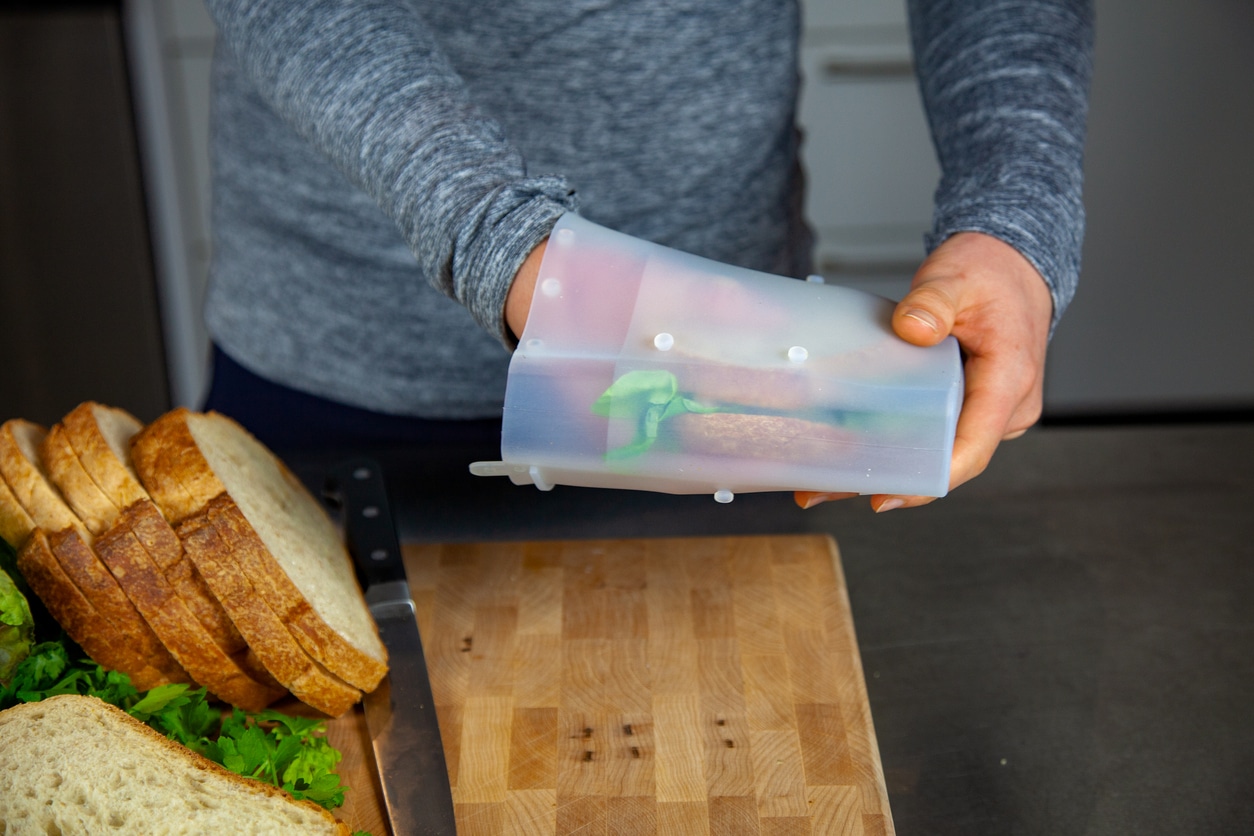 Silicone Bags
Single-use plastic bags are in most households. They allow kids to bring snacks to school and sort meal-prepping ingredients, but the plastic pollutes landfills after one use.
Silicone bags are great alternatives that use the same sealing mechanism to store food safely. When you finish using one, stick it in your dishwasher so it's brand new after a quick cycle.
It's crucial to know why some people believe silicone is another form of pollution, even if you use the same bags for years. Only specialized recycling facilities can reuse it, so you'll need to know if there's one in your area before discarding an old silicone bag.
Stainless Steel Containers
Many sustainable households use stainless steel as a multipurpose storage solution. Producers use scrap metal to create stainless steel products, so your future storage containers could use only recycled ingredients.
Stainless steel doubles as a durable material. It's tough and nonporous, making it a food-safe option for storing leftovers. It won't buckle under extreme temperatures — you can freeze food in stainless steel boxes or refrigerate them with ease.
This storage material doesn't need chemicals derived from petroleum, like plastic. Stainless steel only requires rocks and naturally found elements. Researchers recently found an even more eco-friendly production method by combining iron and chromium to minimize corrosion, while making stainless steel more lightweight. Advances in green technology make sustainable storage containers more efficient with time, so your household upgrades will be a long-term investment.
Silicone Food Huggers
Some foods are challenging to store. If you only use half an avocado, a single-use plastic bag might seem like the best solution for its size and shape. Silicone food huggers make this problem disappear for eco-friendly households.
Consider which foods you eat most often to find silicone storage materials designed for each food's shape. They instantly seal your leftovers to lock in moisture and prevent airflow from perpetuating food rot.
Silicone doesn't include harmful ingredients like phthalates and BPA, which are common in plastic storage containers. Even if your huggers break over time, they won't leak chemicals into the environment while decomposing in landfills.
Breathable Fabric Bags
Don't forget to try fabric bags as a storage solution throughout your home. They're excellent for holding soft things like towels or season-specific clothing.
You'll also upgrade your food storage by putting some groceries in mesh bags. Produce with thick skin — like oranges, apples and potatoes — will stay just as fresh in them compared to plastic Tupperware.
If your bags get dirty or stained, throw them in the washing machine to make them look brand new. You can also make mesh bags if you have a sewing machine. They only take a few minutes to make, so they're an excellent crafting option for anyone new to sewing.
Reclaimed Wood Crates
Sometimes, people need larger wood crates to keep things safe in storage units. Using new wood means you're supporting deforestation through your purchase, but you can avoid this issue by finding reclaimed wood crates.  These use wood from demolished construction sites and older household goods. It's an easy way to upcycle and stick with your eco-friendly values while using a familiar material.
Start Using Sustainable Storage Containers
Your green lifestyle shouldn't disrupt your daily routine. Try using these types of storage containers to create the most sustainable household possible. They'll keep your belongings and food safe without compromising your budget. There's always an eco-friendly solution, if you're willing to try something new.