It's one thing if you're 25 or 30 years old and your 401(k) is just getting started — you've got time to build it up, so don't sweat it — but it's quite another if you're 60 or 65 and you've still got to sock away a lot of money before calling it quits. It could be argued that the environmental community is facing a quandary very similar to that of an aging boomer short on retirement savings. The fact is that the International Energy Agency's (IEA's) target of achieving net-zero man-made carbon emissions globally by 2050 in order to blunt the human impact on climate change will require massive new investment and a complete and well-coordinated transformation of the world's energy complex. In the near-term, progress along that path must include an extraordinarily rapid ramp-up in the use of carbon capture and sequestration (CCS). And like an aging worker whose late discipline may be thwarted by an unforeseen health challenge, as we've seen with the recent energy crisis, there's a lot that could derail progress toward those goals. Is the IEA's goal achievable? Maybe. But, as we discuss in today's RBN blog, it won't be easy.
We've already covered a lot of topics related to carbon capture in this blog series, starting with the basics of CCS, the federal 45Q tax credit, and legislation that could encourage more CCS projects. We followed that up by checking out some of the projects aiming to capture carbon, including the Houston CCS Innovation Zone, the biggest project currently taking shape, and proposals to capture emissions from ethanol plants in the Midwest or pull carbon directly from the air through a process called (appropriately enough) direct air capture (DAC). Carbon capture was also the subject of a recent Drill Down Report.
The idea of capturing the carbon dioxide (CO2) emitted from power plants and industrial facilities and permanently storing it deep underground is widely viewed as one of the more promising ways to reduce global greenhouse gas (GHG) emissions, given the world's growing energy appetite and existing infrastructure. As with any large-scale plan for decarbonization, there has always been a catch — finding the right incentives to convince private-sector CO2 emitters to invest tens or hundreds of millions of dollars in carbon capture — especially during a time when variable costs can make some types of projects uneconomic. But to reach long-term decarbonization targets, including goals set by the U.S. and the IEA to reach net-zero carbon emissions by 2050, carbon-capture efforts are going to need to quickly get bigger — much bigger.
Although CCS projects have gained significantly more attention in recent years as environmental, social and governance (ESG) concerns have risen in prominence and governments have begun to focus on ways to implement net-zero goals, the CCS industry itself is in its infancy. Most estimates put the carbon-capture industry at about $2 billion/year, with compound annual growth rates (CAGR) of probably 10%-20% through the end of the decade. That's consistent growth, but nowhere near where it's expected to go in the long-term. ExxonMobil said in April that it expects the global carbon-capture industry to be a $4 trillion market by 2050 — or about 60% of the size of the overall oil and gas market, which it puts at $6.5 trillion by that date. Occidental Petroleum (Oxy), which is already invested in CO2 markets for its enhanced oil recovery (EOR) operations, has a similar outlook for the carbon-capture market, which it says could be worth $3 trillion to $5 trillion by 2050. Oxy laid out plans in March to expand its low-carbon business strategy, including building dozens of DAC sites around the world.
The IEA's plan for net-zero emissions (NZE) by 2050 depends on massive growth in CCS but also relies on significant advances in clean energy technologies, a rapid shift away from fossil fuels, and the continued electrification of transportation, space-heating and other hydrocarbon-consuming elements of the global economy (which would require significant advances in batteries, demand response and renewables, for instance), as shown in Figure 1 below.
Carbon-Capture Milestones in IEA Plan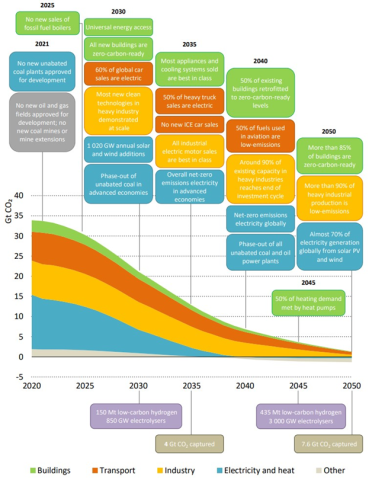 Figure 1. Carbon-Capture Milestones in IEA Plan. Source: IEA
By the IEA's estimate, global man-made CO2 emissions totaled 36.3 billion metric tons (MT) in 2021, the highest level on record. Under the NZE roadmap, annual CO2 emissions would need to fall to 21.1 billion MT in 2030 and reach zero by 2050. To achieve these goals, the IEA estimates that 1.67 billion MT of CO2 will need to be captured and sequestered annually by 2030, reaching 7.6 billion MT by 2050. And those targets will likely need to be even higher if other decarbonization aspirations fall short. If CCS is going to hit those targets — and we're a long way off, given that the world's carbon-capture capacity stands at about 40 million tons per annum (MMtpa) — it's going to require significant growth in all parts of the industry. Let's look at the type of projects that would be involved and how much those segments would need to grow to hit the IEA's targets.
Fossil Fuels and Processes
Most of the IEA's planned reductions in CO2 emissions — about 70% of its 2050 target — come from what it calls fossil fuels and processes. That includes CO2 emitted in general industrial processes, power generation, merchant hydrogen production and non-biofuels production. As we discussed in Way Down in the Hole, Part 4, the costs of carbon capture can vary tremendously, and this is especially true of projects that fall into this category. Generally speaking, facilities emitting CO2 can be put into two buckets: high-purity and low-purity. For the most part, high-purity sources include processes with a highly concentrated CO2 stream, generally where CO2 is a byproduct and is much easier to separate and capture (such as ammonia production or natural gas processing). In low-purity sources, the CO2 is generally a product of combustion (such as a coal- or gas-fired power plant) or is commingled with other emissions and is therefore harder to separate and capture. Technological advancements are key to expanding carbon capture from low-purity sources.
Once the CO2 is captured, it needs to go somewhere. Strong government incentives are also going to be required to ramp up sequestration of captured emissions. In the U.S., the federal 45Q tax credit is the primary government incentive for carbon-capture projects. Each credit is earned by capturing and sequestering 1 MT of qualified carbon oxide (QCO; typically, CO2). The amount of the credit varies depending on how the QCO is sequestered, with the highest rate (rising to $50/MT by 2026) for QCO that is permanently sequestered in geologic storage (a.k.a. CCS). Credits are lower (at $35/MT by 2026) for QCO that is stored via EOR, and also for QCO used in other permissible ways, such as in concrete, building materials and plastics, also known as carbon capture use and sequestration (CCUS). Those rates are scheduled to climb with inflation after 2026, but could be raised before then if the Inflation Reduction Act (IRA) becomes law. The IRA includes several changes for CCS, the biggest being the structure of the credit itself. The credits would jump to $85/MT for CCS and $60/MT for CCUS or EOR. But the higher rates also come with certain prevailing-wage and apprenticeship requirements. To claim the higher credit, both requirements would need to be met during construction and for each year of the 12-year credit period. The "base credits" if those criteria are not met would be 80% lower, at $17/MT for CCS and $12/MT for CCUS, which is generally insufficient to make carbon-capture projects economic. (The tax credit would also increase for DAC, to $180/MT for CCS and $130/MT for CCUS, but "base credits" would also be much lower, at $36/MT for CCS and $26/MT for CCUS. More on DAC below.)
Almost all the CO2 captured by active projects today comes from the fossil fuels and processes category (dashed red rectangle in Figure 2 below), or about 39 MMtpa (dashed red circle). To meet the IEA's target, that annual total would have to reach 1.325 billion MT by 2030 and 5.245 billion MT by 2050 — increases of about 3,300% and 13,350%, respectively, from 2020 levels. By way of comparison, the Houston CCS Innovation Zone aims to eventually sequester 100 MMtpa, meaning that it would take about 13 projects of that size to reach the 2030 target and 52 to reach the 2050 target.

Figure 2. Global Targets for Carbon Sequestration By Sector, 2020-50. Source: IEA
Bioenergy
Bioenergy projects are extremely limited in the current environment — annual carbon-capture capacity from all of them stands at about 1 MMtpa — but they are expected to ramp up quickly as biofuel production increases. As we discussed in our Come Clean series, which looked at how low-carbon fuel policies are incentivizing major shifts in the transportation sector, renewable diesel (RD) and sustainable aviation fuel (SAF) have been gaining in prominence. RD, like biodiesel, is a biomass-based fuel that can be burned in diesel engines or used as home heating oil. SAF, an alternative to jet fuel, is seen by many to be the most viable option to achieve GHG cuts in the aviation sector.
This category also includes projects that feature bioenergy with carbon capture and sequestration (BECCS), a topic we've written about recently in Thunderstruck (a project that combines CCS with RD and SAF production), Space Oddity and Into the Woods. Under the IEA scenario (dashed blue rectangle in Figure 2), CO2 captured from the bioenergy sector would need to reach 255 million MT by 2030 (about 60% from biofuels production) and 1.38 billion MT by 2050 (roughly half from biofuels, half from power production, with a fraction coming from industrial sources).
[RBN Energy's U.S. CO₂ Infrastructure map brings together legacy Enhanced Oil Recovery (EOR) assets, as well as announced large-scale Carbon Capture and Sequestration (CCS) and Carbon Capture, Utilization and Sequestration (CCUS) projects, all in our signature concise, accurate, and intelligible style. Click here for more information.]
Direct Air Capture
DAC, another technology in its infancy, represents the third leg of the IEA's carbon-reduction strategy. DAC systems essentially work like large-scale air filters and remove CO2 directly from the air. As the atmosphere's CO2 is so diffuse, large volumes of air must be processed to capture meaningful volumes, making these systems very expensive per ton of captured CO2 compared with the efficiency of the industrial processes discussed above. Once the CO2 is captured, heat is applied to release it, after which it can be sequestered or used.
As with the projects mentioned in the bioenergy section, carbon capture through DAC is nearly zero today. Further, in addition to their low efficiency, the economics of DAC are challenging (even with significant governmental support) because DAC systems are built and powered to capture CO2 that then must be disposed of. There are 19 mostly small or demonstration-scale DAC plants operating worldwide, according to the IEA, with a number of more extensive projects in advanced development. The biggest plant to come online is the Orca project in Iceland. Led by Swiss company Climeworks, it began operations in September 2021. And even though Orca is designed to remove just 4,000 MT of CO2 each year, it basically doubled global DAC capacity when it came online.
While current capabilities are low, DAC technology does have a couple things in its favor over the long-term. DAC may be limited today, but it should eventually benefit from economies of scale. Most DAC systems, like the Orca project, are modular in design, so adding to their size and scale should be as simple as adding more modules, which should become more efficient and less expensive to manufacture over time, similar to how costs for renewables have fallen.
DAC also has one big selling point over other carbon-capture projects: It doesn't really matter where you put it. Since the CO2 is being pulled directly from the atmosphere, and removing CO2 has the same overall benefit regardless of where it's done, DAC facilities can deal with CO2 without needing to be near the generation source. That could prove to be especially important in mitigating emissions from sources where CO2 is difficult to capture — vehicle tailpipes, for example.
The IEA expects DAC to account for about 90 million MT of carbon sequestration by 2030 but jump to 985 million MT by 2050 (dashed green rectangle in Figure 2). Once again, let's put those numbers in perspective. As noted above, Oxy has big plans for DAC, including three hubs that would each have 6 MMtpa of sequestration capacity. To reach the 2030 target would require about 15 projects of that size globally. To hit the 2050 target would require about 164 projects of that size. (We also assume that by 2030, and especially by 2050, that individual DAC projects could have capacities much greater than 6 MMtpa.)
Most, if not all, long-term plans for decarbonization, including from the IEA, include carbon sequestration as a major feature. And while that signifies significant growth in the CCS sector over the next few decades, there are a number of factors that could accelerate (or slow) that growth, including government incentives; expanded use of EOR, the largest method of carbon sequestration today at about 68 MMtpa in the U.S.; greater acceptance of and commitments to net-zero targets; public acceptance of carbon sequestration and CO2 pipelines; and the costs of CCS technology.
"Way Down in the Hole" was written by Tom Waits and appears as the second song on side two of Waits's 10th studio album, Franks Wild Years. The song was used as the theme song for the HBO crime drama series, The Wire. The series ran for five seasons from 2002-08. In addition to Waits's version, a different recording of "Way Down in the Hole" was used for each season, including versions by The Blind Boys of Alabama, The Neville Brothers, DoMaJe, and Steve Earle. Personnel on the Waits record were: Tom Waits (vocals, pump organ), Marc Ribot (guitar), Greg Cohen (bass), Michael Blair (drums, percussion), Ralph Carney (sax), and Angela Brown, Leslie Holland, and Lynne Jordan (backing vocals).
Franks Wild Years was recorded during 1987 at Universal Recording in Chicago, and The Sound Factory and Sunset Sound in Hollywood. The album contains songs written for a play of the same name. Several songs from the album have appeared in television shows, movies and stage productions. Produced by Waits, the album was released in August 1987 and went to #115 on the Billboard Top 200 Albums chart.
Tom Waits is an American songwriter, singer, musician and actor. He began his professional career performing on the San Diego folk circuit as a teen in the late 1960s. He moved to Los Angeles in 1972, where he worked as a songwriter before securing his first record deal with Asylum Records. He has released 17 studio albums, three live albums, seven compilation albums, two soundtrack albums and 24 singles. His songs have been covered by many artists from different genres. Waits has appeared in over two dozen motion pictures. He was inducted into the Rock and Roll Hall of Fame in 2011. His last tour was in 2008 and his last LP, Bad as Me, was released the same year. He has a featured role in the movie Licorice Pizza, which was released in the U.S. in November 2021 and received an Oscar nomination for Best Picture.