Weekly residual fuel oil stocks at key trading hub Singapore climbed for a second consecutive week, after extending a downtrend through April and May, official data showed on Thursday.
Onshore fuel oil stocks rose 3% to a five-week high of 19.57 million barrels (2.98 million tonnes) in the week ended June 7, based on Enterprise Singapore data.
Stockpiles rose despite a drop in weekly net imports, calculated by subtracting total exports from total imports, which fell 7% to 390,000 tonnes.
The United Arab Emirates overtook Malaysia as the top origin for Singapore's fuel oil imports, with net import volumes hitting 102,000 tonnes. This was followed by Indonesia at 87,000 tonnes and Brazil at 70,000 tonnes.  
South Korea, meanwhile, took over as the top destination for fuel oil exports from Singapore at 55,000 tonnes, followed by Bangladesh at 43,000 tonnes and Hong Kong at 42,000 tonnes, the data showed.  
Despite the recent rebound, weekly fuel oil inventories still held below a year-to-date average of 3.32 million tonnes per week, Enterprise Singapore data showed.    
Lower arbitrage cargo arrivals to wider East Asia are expected to cap further builds in inventory levels, ship-tracking data showed.  
Volumes from the West to the East of Suez are pegged at about 2.03 million tonnes for June so far, softening from around 3.56 million tonnes in May, based on Refinitiv Oil Research this week.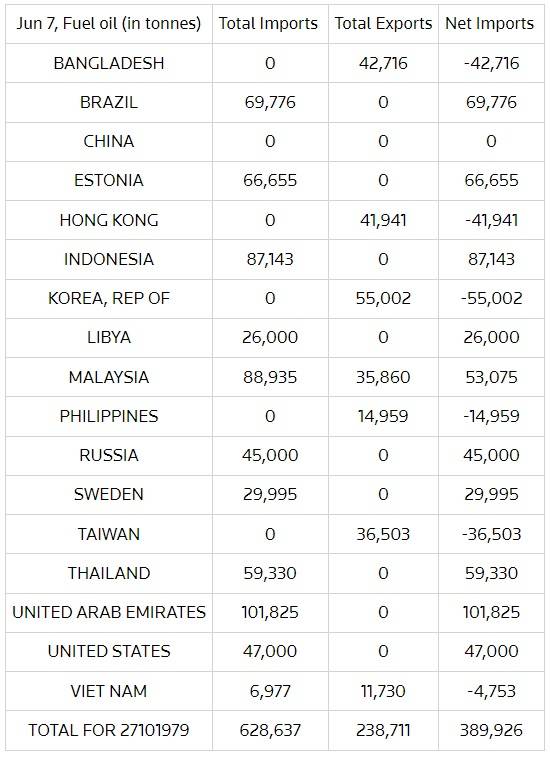 (Data from Enterprise Singapore)
(Reuters – Reporting by Jeslyn Lerh; Editing by Sherry Jacob-Phillips)