Electric vehicles (EVs) in the U.S. may be at a turning point, with high gasoline prices prompting would-be car buyers to give them a second look — or a first look, in many cases. EV adoption has been slow to pick up speed in the U.S. for a variety of reasons, including the lack of a nationwide charging network and concerns about "range anxiety." But a major factor has always been that gasoline-fueled cars have been cheaper to purchase and operate than EVs. The recent run-up in gasoline prices, amplified by Russia's invasion of Ukraine, has changed the math in those comparisons, at least in the short-term. Is the pace of EV adoption about to accelerate, or will trends in gasoline and electric power prices put the transition into cruise control, or even neutral? In today's RBN blog, we look at how forecasts for power and gasoline prices might shape the conversations around EVs through 2030.
Over the past few months, we've written a lot about EVs and their place in the ongoing energy transition. We've looked at the challenges associated with sourcing the minerals and metals needed to make that technology work (see Tell It Like It Is, Part 1 and Part 2), along with the long-term impact on the power grid (see Electric Avenue) that would accompany a large-scale shift away from the internal combustion engine (ICE). And we've examined the clash between the energy markets of today and the ongoing energy transition in Monkey Wrench and Sledgehammer.
More recently, in Part 1 of this series, we discussed the sudden burst of attention that EVs have received, a trend highlighted by their presence in this year's Super Bowl broadcast. From legacy brands such as BMW and General Motors to the EV startup Polestar, several automakers used their spots during February's game to highlight their latest EV offerings. The momentum didn't stop there. Americans bought nearly twice as many EVs in the first quarter of 2022 than in the year-ago period, according to Kelley Blue Book, and now account for more than 5% of total new-car sales. The buying trend isn't limited to the U.S. either. Global EV sales topped 850,000 in March, according to EV-Volumes, up more than 60% from a year earlier. Volkswagen, the world's second-largest EV manufacturer after Tesla, said earlier this month that it had sold out its EV models in the U.S. and Europe, and orders in those markets would not be delivered until 2023 due to high demand and supply chain issues. And although EV sales have been rising, overall U.S. sales of new vehicles were expected to drop by about 14% in the first quarter.
Gasoline prices, to no one's surprise, are a big reason why EVs are getting more attention from potential car buyers. Crude oil and gasoline prices have been trending higher for some time as supply struggles to keep up with demand, which we've touched on in several blogs, including It's Been a Long Time Comin', Comfortably Numb, Road to Nowhere, and the I Can't Go For That (No Can Do) series. Those issues have only become more pronounced since Russia's invasion of Ukraine in late February.
In Part 1 of this series, we looked at how the current run-up in gasoline prices has made EVs more competitive in terms of cost compared with conventionally fueled vehicles, especially in the states with the highest gasoline prices, such as California. But our analysis showed that EVs were also becoming competitive in states with the lowest gasoline prices, such as Texas. In today's blog, we will look at forecasts by the Energy Information Administration (EIA) for gasoline and power prices through 2030 — by when auto executives surveyed by KPMG said they expected 52% of new vehicles sold in the U.S. to be EVs, pretty much in line with goals set out by the Biden administration in August 2021 — and how those prices might impact the rate of EV adoption.
The EIA's Analysis
We'll begin with the EIA's Reference case for its Annual Energy Outlook 2022 (AEO 2022), which was published March 3. The Reference case represents the EIA's assessment of how U.S. and world energy markets would operate through 2050. (Our comparisons today will go through 2030). The Reference case provides a baseline for exploring long-term trends, based on current laws and regulations as of November 2021, and assumes improvements in energy production, delivery and consumption technologies. It also assumes that current laws and regulations that affect the energy sector, including those that have end dates, remain unchanged throughout the projection period. The Reference case puts the price of Brent crude at $74/bbl (in 2021 dollars) by 2030, while the High Oil Price case puts Brent at $145/bbl and the Low Oil Price case puts Brent at $38/bbl for the same period. The fourth scenario we'll look at, the Low Oil and Gas Supply case, assumes that the estimated ultimate recovery per well for tight oil, tight gas or shale gas in the U.S.; the undiscovered resources in Alaska and the offshore Lower 48; and rates of technological improvement are all 50% lower than in the Reference case.
We should note a few things about the data included in our model. Prices for regular gasoline and the cost of residential charging come from the EIA's estimates, which we'll get into shortly. We calculated the price for premium gasoline, which is used to calculate the fueling charges for conventional luxury vehicles, at 22.5% above the EIA's forecast for regular gasoline, based on AAA estimates that premium gasoline is typically 20%-25% more expensive. Costs for commercial charging are unchanged from our Part 1 analysis, as are estimates for the number of "deadhead" miles driven each year — the miles driven to and from a fueling or charging station — based on 12,000 "purposeful" miles driven (total miles minus the miles driven to fuel up). EV-specific expenses include the cost of a home charger and additional fees. (Since EVs don't contribute to the gasoline taxes used to pay for transportation infrastructure, about half the states impose a registration fee for EVs in addition to the registration fee assessed for all vehicles.) All comparisons are between conventional ICE-powered vehicles and fully battery electric vehicles (BEVs). Also, these are national estimates, so state-level variations are not factored in here.
[RBN's Hydrogen Billboard report tracks the latest developments in the domestic and global hydrogen markets, filtering through the noise with an unbiased lens to deliver impactful hydrogen infrastructure and market analysis. Click here for more information and a sample report.]
Before we go further, we should also note that we're looking at the cost to drive a vehicle in a given year — not the sometimes-significant cost to buy a new one. With inflation surging to 7.9% in 2021, the highest since 1982, U.S. car prices have followed suit. The prices of new cars were about 13% higher in March compared to a year earlier, according to Kelley Blue Book. And since the up-front costs to buy a vehicle are often the determining factor for buyers, lower on-the-road costs may not be enough to favor an EV, even when the federal government's tax credit of up to $7,500 is factored in, along with any incentives from manufacturers. The average EV sells for more than $56,000, about $10,000 higher than the average price of all vehicles. There's a wide variety in EV sticker prices, too. A 2022 Nissan Leaf or Chevy Bolt EV can be found with suggested retail prices in the low-to-mid $30,000s, but the Porsche Taycan can run to $150,000 or more. 
The most unpredictable element in this forecast — and our overall analysis — is the cost of gasoline, with the EIA's models showing a wide variety of pricing scenarios through 2030. So, let's start there. The U.S. average price for gasoline was $4.418/gal as of May 12, up nearly 50% from a year ago, but the EIA's Reference case (dashed blue line in Figure 1) has that price dropping below $3/gal after this year and generally continuing that trend through 2030. The High Oil Price case (dashed brown line) pretty much assumes that today's high gasoline prices will be here for a while. That scenario has prices averaging more than $4/gal through the end of the decade.
Figure 1. Gasoline Price Scenarios Through 2030. Source: EIA
But what happens if the floor falls out from under the oil market? In the Low Oil Price case (dashed green line), global liquid fuel demand is lower and supply is higher than in the Reference case, quickly pushing gasoline prices back to about $2/gal and remaining there. In the Low Oil and Gas Supply case (dashed yellow line), gasoline prices generally follow the Reference case, but then accelerate more quickly toward 2030.
On the power side of the equation, the EIA sees demand for electricity growing fastest in the transportation sector, but it also says that vehicle sales and utilization would need to increase substantially for EVs to raise electric power demand growth rates by more than a fraction of a percentage point each year. EVs would make up 4.5% of all sales of light-duty vehicles by 2030, twice the 2021 market share of about 2.2%, but still just a fraction of on-the-road vehicles. Perhaps due in part to its analysis that EVs won't significantly add to power demand, the EIA's price forecasts are generally more stable for electricity.
Figure 2. Electricity Price Scenarios Through 2030. Source: EIA
In the EIA's Reference case, the average annual growth rate for electricity consumption tops 1% through 2050, but the annual increases are smaller through 2030. In that scenario (dashed blue line in Figure 2), average retail prices for electricity generally move down through 2030. The highest electricity prices are expected under the Low Oil and Gas Supply scenario (dashed yellow line), with prices under the High Oil Price (dashed brown line) and Low Oil Price (dashed green line) cases more closely matching the Reference case. We should also note that the EIA power scenarios in Figure 2 use a combined rate that include residential, commercial, industrial and transportation uses. Although it wasn't included in AEO 2022, data from the EPA generally shows residential rates are about 25% above the combined rate, so we've used the higher residential rate our models. (It's also worth noting that not everyone agrees with the EIA's forecasts for generally lower-to-stable power prices for the rest of the decade.)
The Reference Case
So, what does all this mean for our comparison between EVs and conventionally fueled vehicles? Let's begin with the Reference case, under which regular gasoline prices move back to below $3/gal (in 2021 dollars) by 2030 and electricity prices are about 4.6% lower than in 2021.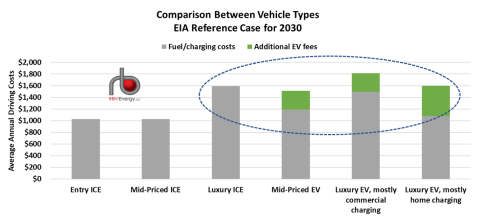 Figure 3. Comparison Between Vehicle Types, EIA Reference Case for 2030. Source: EIA
If that scenario were to play out, most vehicles that run on gasoline would still hold a significant advantage in annual driving costs, but all classes of EVs would be competitive compared with luxury ICE vehicles (dashed blue oval in Figure 3). This is very familiar to how the comparisons looked in 2021, before crude oil and gasoline prices started climbing steadily higher.
Click here for a table showing the cost comparisons under the Reference case.
High Oil Price
As you might expect, if gasoline prices stay higher for longer, EVs tend to look increasingly better to buyers. In this scenario, regular gasoline stays around its current level for the rest of the decade and power prices move even lower in comparison to the Reference case. In fact, of the 10 scenarios studied by the EIA, the High Oil Price case also has the second-lowest electricity prices. (The lowest would come under the High Oil and Gas Supply case, which we did not detail.)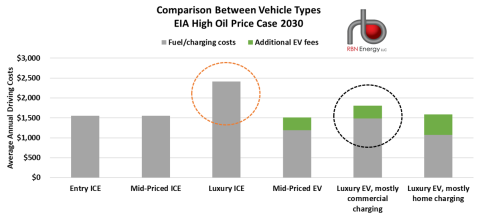 Figure 4. Comparison Between Vehicle Types, EIA High Oil Price Case for 2030. Source: EIA
In this scenario, conventional luxury vehicles (dashed orange circle in Figure 4), which are fueled by premium gasoline in our model, are at the biggest disadvantage, with annual driving costs several hundred dollars above every other category, including luxury EVs that rely mostly on commercial charging (dashed black circle). But EVs across all categories become competitive against ICE-powered vehicles in this scenario, which could help open other parts of the EV market.
Luxury sales have long dominated the EV market, with Tesla accounting for about 75% of all EV sales during the first quarter of 2022. Those vehicles have led the EV market even though they've been significantly more expensive to drive (and buy) than their traditional rivals, which means that price hasn't been the determining factor, and perceived environmental benefits and on-road performance have been playing a more important role. But if gas prices stay elevated, that might also provide a boost to the mass market making mid-priced EVs more competitive against their conventional rivals, many of which are just now coming into the market in sizable numbers.
Click here for a table showing the cost comparisons under the High Oil Price case.
Low Oil Price
As favorable as things look for EVs under the High Oil Price scenario, the outlook is a total opposite under the Low Oil Price scenario, which sees gasoline prices at less than half the current level. This scenario may feel like a longshot at the moment, but there weren't a lot of predictions for today's high prices two or three years ago, so it's worth at least considering what might happen in that situation.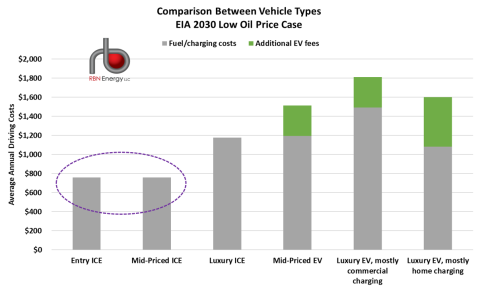 Figure 5. Comparison Between Vehicle Types, EIA Low Oil Price Case for 2030. Source: EIA
Should gasoline prices revert to levels last seen during the early months of the COVID lockdowns and then stay there, pushed lower by higher-than-forecast production and lower-than-expected demand, driving costs for EVs would be significantly higher than for their conventional rivals in every comparison, but especially for entry-level and mid-priced conventional vehicles (dashed purple oval in Figure 5). That might not have as big an impact on Tesla, which already has an established place in the market, but it would generate additional headwinds for other automakers looking to ramp up their EV offerings.
Click here for a table showing the cost comparisons under the Low Oil Price case.
Low Oil and Gas Supply
For the last comparison, we've chosen the Low Oil and Gas Supply case because it's the one with the highest expected cost of electricity. In this scenario, gasoline prices are also higher than in the Reference case, but far below today's prices and those found in the High Oil Price case.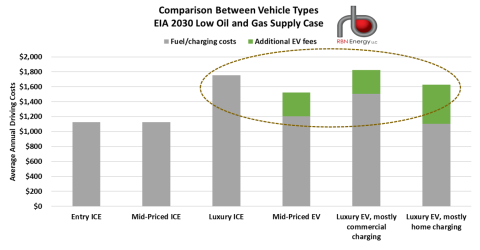 Figure 6. Comparison Between Vehicle Types, EIA Low Oil and Gas Supply Case for 2030. Source: EIA
In this scenario, the higher charging costs help keep entry-level and mid-priced ICE vehicles at a cost advantage against all types of EVs. As with most of our other comparisons, the most significant competition comes in the luxury segment, with all types of EVs competitive against conventionally fueled luxury models (dashed brown oval in Figure 6).
Click here for a table showing the cost comparisons under the Low Oil and Gas Supply case.
As we've noted, EVs are having their moment in 2022, and there are indications that it might be more than that as EV sales rise in the U.S. even as overall vehicle sales fall. It's also worth noting that EV sales are much higher globally — 8.6% of new cars sold in 2021 were EVs, according to the International Energy Agency (IEA) — which means there's probably room for EVs to add market share in the U.S. as well. Of the four scenarios we looked at, only the Low Oil Price scenario looks like bad news for EVs, with the other three providing various levels of support for EVs across all vehicle categories but offering the most competition in the luxury segment.
"One Shining Moment" was written by David Barrett. It's widely associated with the NCAA Men's Basketball Tournament. Since 1987, the song has been played during television coverage as the winners of the championship game cut down the nets to a montage of highlights of the tournament. Ann Arbor, MI-based singer-songwriter Barrett was inspired to write the song after watching basketball legend Larry Bird play in 1986. CBS Sports picked up Barrett's version and used it from 1987 to 1993. The channel used a version by Teddy Pendergrass from 1994-99, then used the Barrett version again between 2000 and 2002. Beginning in 2003, it has mostly used Luther Vandross's version until the present, with Jennifer Hudson's cover of the song used in 2010 and Ne-Yo's interpretation used in 2016. Vandross's version is believed to be the last recording he made before his death in 2005.
In addition to composing "One Shining Moment," David Barrett has won two Emmys for scoring PBS specials about C.S. Lewis and Woody Hayes. He has also composed music for the PGA Championship, the Calgary Olympics, the Seoul Olympics, and commercials for Kraft, Hallmark and McDonald's among others.
Luther Vandross was an American singer, songwriter, and record producer. He released 13 studio albums, one live album, 17 compilation albums and 59 singles.
Teddy Pendergrass was an American singer who got his professional start as the lead singer of Harold Melvin and the Blue Notes. After leaving the group in 1976, he had a successful solo career. As a solo artist, he released 14 studio albums, two live albums, 13 compilation albums and 39 singles before his death in 2010. Ne-Yo and Jennifer Hudson continue to record and perform live as solo artists.