With climate change and global warming threats mounting, businesses worldwide face increasing demands to reduce their environmental footprints. With the UN's stipulated targets aiming for countries to reach net zero by 2050, debates are intensifying over the attainability of these and other milestone targets. However, sustainability is critical for the future of both the planet and businesses, so inaction is not an option.
Many countries – including the statistically biggest polluters like the U.S., EU and China – have pledged their commitments to said targets. Many have implemented legislation and large-scale initiatives to make the green transition easier and more attainable for businesses still needing to operate in a competitive and expensive marketplace, while not compromising their sustainability goals. 
Through a variety of funding, grants and loans, many companies can achieve those crucial upfront investments to support their individual efforts at improving their eco-friendliness. This guide outlines some of those innovative funding models businesses can pursue to finance impactful environmental initiatives. 
What Types of Environmental/Sustainability Initiatives Can Companies Pursue?
Depending on the size and scale of your business, you have a variety of options to become more eco-friendly across your operations:

Clean energy

: Installing renewable energy sources like solar panels, upgrading to energy-efficient lighting and appliances, as well as installing HVACs and streamlining production to cut waste.

Water conservation

: Adopting low-flow plumbing fixtures, rainwater harvesting, water recycling and drought-resistant landscaping.

Waste reduction

: Cutting down on packaging, enabling recycling streams, adopting circular economies and converting waste to energy.

Sustainable transportation

: Switching to fleets of hybrid or electric vehicles, encouraging employee green commutes and optimizing logistics networks.

Green construction:

Building to eco-standards

like LEED, improving insulation and integrating automation for efficiency.

Sustainable materials

: Eliminating toxins from manufacturing and pursuing zero-waste supply chains.

Conservation efforts

: Buying carbon offsets, protecting biodiversity and restoring habitats and ecosystems by funding conservation programs.
With such a wide range of options, companies can develop comprehensive strategies for maximizing their positive environmental impacts. However, to ensure viability in both the short and long term, companies do need to be innovative in their sustainability efforts. Without proper planning and clever execution, it may prove more ambitious than fruitful and effective.
Securing financing for major environmental projects all comes down to building a compelling business case. Companies must thoroughly research potential costs, benefits and returns on investment (ROI) to prove the viability of their green initiatives. If hard data can back up their projections, companies can unlock vital funding for sustainability innovation internally and externally.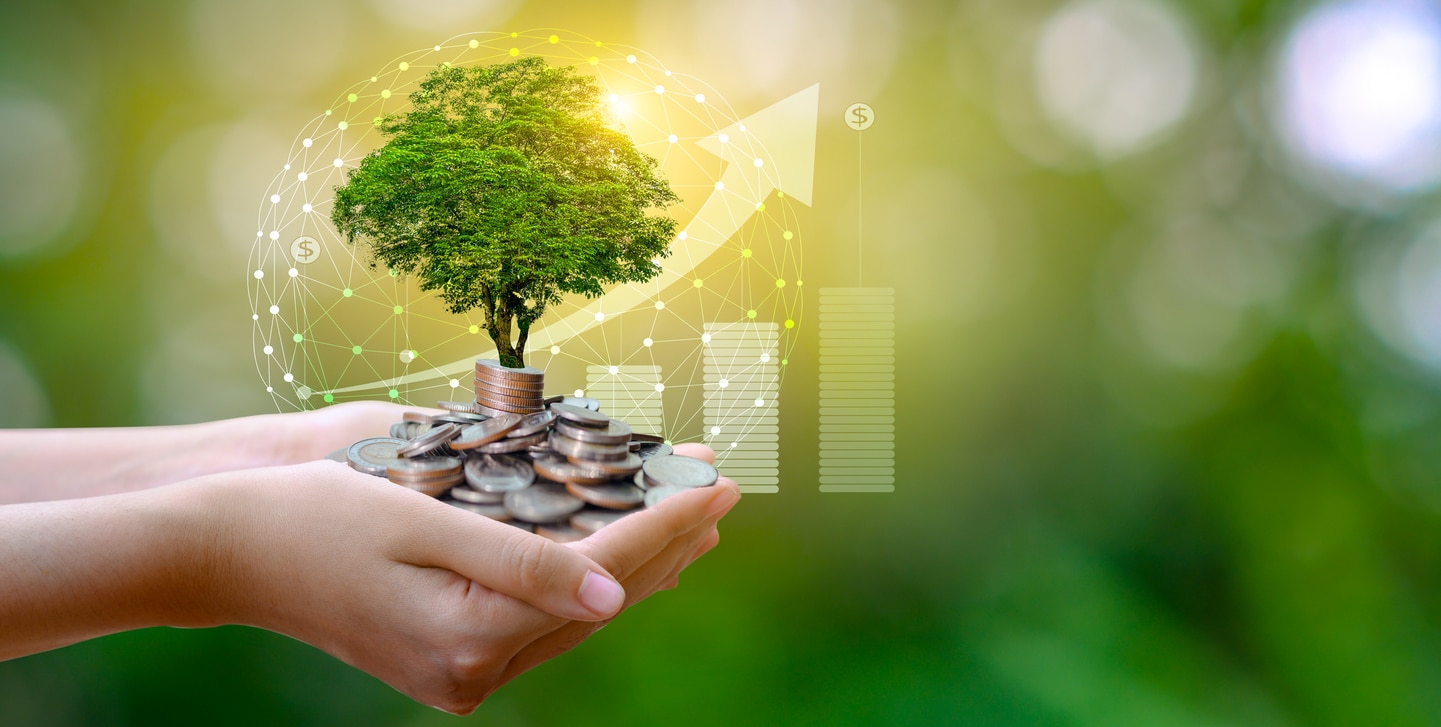 Environmental Funding Options Available to Business Owners
Here are some of the most promising options for companies to finance their environmental priorities without breaking the bank:
Green Bonds
Green bonds are fixed-income financial instruments that allow companies to raise large amounts of capital, specifically for environmental projects. They provide fixed returns for investors like regular bonds, but focus on initiatives like renewable energy, clean transportation and natural resource conservation. The global green bond market has exploded with over $351 billion of green bonds issued in 2023 so far. Companies like Apple, Starbucks and Toyota are using them to finance a wide range of legitimate energy goals. Investors will be assured funds will be allocated to genuinely impactful uses.
Sustainability-Linked Loans
Banks offer sustainability-linked loans (SLLs) with dynamic interest rates to allow companies to secure cost-effective loans from lenders in exchange for meeting predetermined ESG (environmental, social and governance) targets such as greenhouse gas reduction. Companies are incentivized and measured on ESG performance with lower interest rates on loans attainable for those hitting and exceeding targets.
Climate Venture Capital
Venture capital and private equity firms focused specifically on climate-friendly tech are allied in an initiative called the Venture Climate Alliance. These firms provide essential startup and growth capital to companies developing innovative new sustainability solutions. While its valuation is lower than sectors, like crypto and fintech, it still exceeds $1.6 trillion, according to Dealroom data.
Companies can partner with venture capitalists (VCs) directly, or with climate-tech startups funded by them, to pilot cutting-edge green products and services. This mutually-beneficial relationship allows for faster upscaling with corporate backing, while companies spearhead innovative sustainability efforts.
Reinvesting Efficiency Savings
Sustainability improvements in energy, waste and water often lead to significant cost savings from efficiency. It's estimated switching to green energy and adopting more stringent water conservation and waste reduction policies would cost $62 trillion, but this could be paid off in just six years. Such individual savings for companies can be funneled into financing other green projects and allowing a self-perpetuating cycle to continue.
Supplier Partnerships
Partnering with sustainability-focused suppliers allows companies to share research and implementation costs on green equipment and materials upgrades throughout their supply chains. As an example, consumer goods leader Danone co-finances sustainable agriculture initiatives with its dairy suppliers, enabling faster and more affordable supply chain processes.
Industry Collaboration
Competitors in the same industry can collaborate on sustainability initiatives, if there are mutually beneficial scale and cost efficiencies for them. Cosmetics giants like L'Oreal, Avon and Estee Lauder, for example, cooperate on funding responsibly sourced mica for their cosmetic products, through a scheme known as the Responsible Mica Initiative. By working in tandem, these companies can have a much bigger impact at a fraction of the cost.
Accelerators and Incubators
Companies can co-fund industry accelerator and incubator programs, taking the lead in discovering sustainability solutions. The funding options available depend on companies' initial cost quantifications and financial impacts. However, environmental projects can be funded through external capital and even government funding, if these projections are backed by detailed data and analysis. 
For example, Unilever partnered with the UK government and other firms to launch a £40 million "Plastics Packaging Waste Reduction Accelerator" to give start-up businesses a cash injection to help them reduce plastic pollution. This mutual agreement benefits both Unilever – from a brand awareness perspective – and the start-ups getting instant working capital to make immediate, impactful changes. In turn, more innovative sustainability solutions become recognized.
Research and Development (R&D)
Allocating resources and funds for in-house R&D allows companies to pioneer new sustainability solutions and technology tailored to their specific operations. This can range from renewable energy systems to eco-friendly manufacturing materials. R&D grants can be gifted to qualifying companies that may not have access to the infrastructure, or have the credit history, to obtain open-market loans, third-party VC or equity investments.
While R&D funding is an upfront cash investment, the long-term benefits in cost savings, efficiency and competitive advantage from implementing green technology within a business often make the investment worth it. In many cases, companies are not obligated to pay this lump sum back, which provides a huge sense of relief and peace of mind. Provided companies can display evidence of sufficient and reasonable allocation of resources, this can be a financially-viable and innovative use of cash to improve sustainability efforts.
Turning Plans into Action
There is no one-size-fits-all action plan for firms to follow when it comes to innovative and sustainable strategies. However, the options outlined above can hopefully give you food for thought when considering your options for financing your ambitious environmental goals. The rule of thumb is to make a compelling business case for each of your specific targets. Then, back it up with actionable and tangible data. 
The clock is ticking as far as environmental sustainability is concerned. Meaningful action is required now.