U.S. diesel inventories are at their lowest level for May since 2000 and East Coast stocks recently hit their lowest mark for any week or month since the EIA started tracking them in 1990. Crack spreads for diesel — and, more recently, for gasoline — have gone parabolic, giving refiners the strongest financial signal ever to produce more diesel and gasoline as we enter the summer travel season. More jet fuel too. The problem is, U.S. refineries already are running flat-out. And Europe? It's facing big cuts in crude oil and refined-products imports from Russia as well as much higher prices for — and possible shortages of — oil and natural gas, the latter being the primary fuel for operating refinery hydrocrackers, which upgrade low-quality heavy gas-oils into high-quality diesel, gasoline and jet. It's a mess, and not easily fixable, as we discuss in today's RBN blog.
U.S. and global energy markets have always had challenges to deal with — nothing so far-reaching, multifaceted and interdependent can run as reliably and smoothly as a Swiss watch, whose gears and springs operate within a glass-and-gold vacuum. But it would be hard to find a time when energy markets are in as much disarray as they are today. The COVID pandemic, a precipitous economic slowdown (and partial rebound), a nascent energy transition, Russia's war on Ukraine, and China's big-city lockdowns, among other things, have combined to wreak havoc, with the most significant effect being supply/demand imbalances that have propelled prices for crude oil and refined products (and natural gas) sharply higher.
Markets generally fix themselves. We've all heard this economic truism: "The cure for high prices is high prices." While that may generally be true — when widget demand and prices soar, producers ramp up production to take advantage of the situation, and increased supply brings prices back to earth — the truism doesn't always hold up, especially in the short term, particularly when things get complicated. And things are very complicated today. Demand for crude oil from Russia, a leading producer, is off sharply — the U.S., its allies and others won't touch the stuff, leaving Russia's reduced output to be sold at a discount to those who will. Oil production in the rest of the world is up only marginally, however, partly because many countries can't increase their production much and partly because those that can have learned that ramping up production quickly can cause prices to plummet.
The refined products side of the market has its own issues. As we'll get to next, refining margins — the profits generated by refining crude into gasoline, diesel, jet fuel and other valuable commodities — have rocketed higher this spring. And yes, with those favorable economics, U.S. refiners have been ratcheting up their output. But there are limits, namely the capacity of the refineries and the ability of refiners to fine-tune their crude slates and processes to produce as much of the most profitable refined products as they can. As we said in Part 1 of this blog series, U.S. atmospheric distillation capacity is down by 1 MMb/d since July 2020 to less than 18 MMb/d and, with many refiners casting wary eyes on ESG and the energy transition, more refinery closures or conversions to bio-refineries may be on the way. Also, there have been significant refinery closures in Europe, Japan, Australia/New Zealand, the Philippines, Singapore and South Africa since COVID hit.
So, why are refining margins soaring? Put simply, it's because the prices of refined products (as determined by their markets) have risen more over the past few months than the price of crude oil, the refiners' primary input cost. That's especially true along the East Coast (PADD 1), which has lost a lot of refining capacity the past few years, depends heavily on piped-in refined products from PADD 3 (Gulf Coast) and imports, and is impacted more than most by what's going on in Europe.
[RBN Energy's Chart Toppers is a tool for people who need to stay current with key market indicators. Every weekday morning at 6 AM CT, RBN will email you a spreadsheet with the ratios and models as well as the supporting data that we use to keep us informed of major market movements. Click here for more information.]
Refining margins differ by refinery, of course. Each refinery is unique — in location, equipment complexity, crude slate, and access to crude (and to refined products markets), among other things — and its profits from refining oil are likely to differ from its peers. But there is a  tried-and-true, rule-of-thumb way to estimate the refining sector's general profitability: the crack spread, which compares the price of a barrel of crude oil to the sum of the per-barrel prices of a refinery's output. A common approach is to use the 3-2-1 crack, which represents the operation of a hypothetical refinery that makes twice as much gasoline as diesel from three barrels of crude. (Some use the 2-1-1 crack, and, in RBN's weekly Refinery Billboard, we calculate gross margins by refinery, using the PRISM modeling tool developed by our friends at Baker & O'Brien.)
As we said last time, whichever measure you use, it's important to factor in the cost of the Renewable Volume Obligations (RVOs) that refiners (and fuel importers) need to meet regarding the blending of biofuels — see Driver's Seat for how RVOs work. Figure 1 shows the monthly average 3-2-1 crack spread (solid green line) and 2-1-1 crack spread (solid blue line) for the East Coast, which as we said is the poster child for today's refining-sector challenges, as well as each of those crack spreads with the RVO cost factored in (dashed green line for the 3-2-1 crack spread with RVO and dashed blue line for the 2-1-1 crack spread with RVO). As you can see, including RVOs shrinks crack spreads substantially but doesn't change the fact that they have recently soared to unprecedented levels.
Figure 1. Average Monthly East Coast Crack Spreads. Source: RBN
As for PADD 1's gasoline and diesel cracks — simply the difference between the cost of a barrel of crude (for a PADD 1 example we use the Brent crude price) and a barrel of each of those refined products (at New York Harbor) — they also are through the roof. The teal line in Figure 2 shows the recent increase in the margins for producing gasoline in the East Coast, a margin that's now approaching $50/bbl. The purple line shows the PADD 1 diesel crack, which spiked to more than $100/bbl in late April but more recently has been settling in around $60/bbl — still extraordinarily high.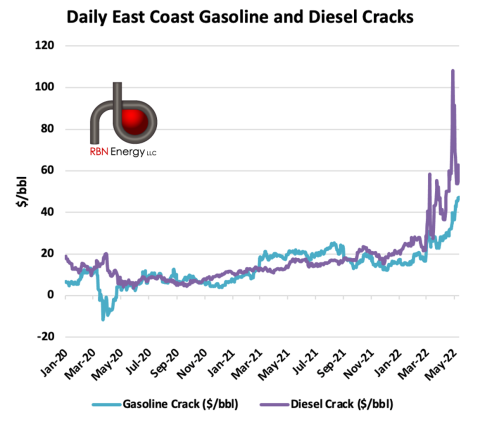 Figure 2. Daily East Coast Gasoline and Diesel Cracks. Source: RBN
As you can see, it's never been more profitable to refine gasoline and diesel –– and not just in PADD 1, but everywhere in the U.S. That's not the "fault" of refiners, if you're looking for someone to blame for the $106 it just cost you to fill up your F-250 or Suburban. Refiners don't have nearly as much control over their own destiny as the general public (and many politicians) think. Instead, they deal with the prices that markets give them — for crude oil (their primary input cost) and for gasoline, diesel, jet fuel and other outputs of their refineries.
So what's pushing the prices for refined products to record (or near-record) levels? No magic here, it's a matter of supply and demand, plus a dash (or a spoonful) of dread about where things may be heading on the gasoline, diesel and jet fuel fronts. Generally speaking, demand for refined products has been returning to pre-pandemic levels, both in the U.S. and elsewhere, although it's true that demand is being impacted negatively by higher prices, lockdowns in China, and supply constraints in Europe. Gasoline and diesel supply also have been impacted in a number of ways, including reduced exports of refined products from Russia (especially to Europe), reduced crude oil flows to European refineries (again, from Russia), reduced refining activity in China (due to lockdowns there), and capacity limits on U.S., European and other refineries that leave them unable to fill the void created by Russia's reduced role.
The "dread factor" we mentioned comes from concern that the price-based battle for gasoline, diesel and jet fuel supplies will become more intense over the next few months. There already are strong indicators that refined products markets are stressed, again especially on the East Coast. With Europe pulling more refined products its way and reducing its exports, PADD 1 inventories of gasoline (yellow line in Figure 3) and diesel (green line) in particular are at their lowest levels in years — and well below their five-year ranges.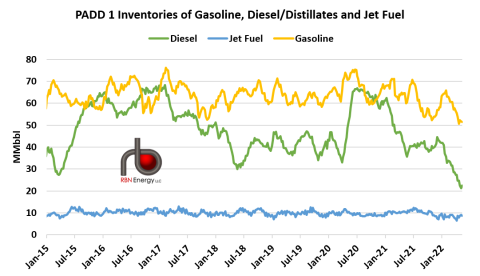 Figure 3. PADD 1 Inventories of Gasoline, Diesel/Distillates and Jet Fuel. Source: EIA
In the near term, that's pushing up prices for gasoline and diesel. In the middle term, it's raising concerns about supply, not just for this summer travel season but for this coming winter — remember that the U.S. Northeast (Pennsylvania, New Jersey, New York and the six New England states) depends heavily on heating oil (a diesel equivalent), typically consuming more than 60 MMbbl per heating season.
How does this all play out? As we see it, U.S. refiners — who of course are benefitting from the sky-high crack spread — will try to move heaven and earth to keep their utilization rates high. Those rates now average about 90%, and it's possible they could increase by at least a few percentage points as refiners pull out all the stops. Also, you can be sure that refiners are doing all they can to optimize their output of the specific refined product(s) that will earn the most — that can be achieved by tweaking (1) the types and proportions of crude oil they refine and/or (2) the refineries' operation. We're also likely to see increasing flows of U.S.-sourced diesel to Europe, whose transportation sector (cars, SUVs and trucks alike) is diesel-driven and which until recently had counted on Russia for as much as 800 Mb/d of diesel imports.
The bottom line, though, is that, with all that's going on in the world, crack spreads and the gasoline and diesel cracks will almost certainly remain at elevated levels for at least the next few months and quite possibly into 2023.
"Cracking Up" was written by Nick Lowe and appears as the second song on side one of Lowe's second studio album, Labour of Lust. The song was released as a single on Radar Records in the UK in May 1979. Tom Petty and the Heartbreakers recorded a version of it in 1985, and it's included on their Playback compilation box set released in November 1995. Personnel on the Nick Lowe record were: Nick Lowe (lead vocals bass), Dave Edmunds (guitar, backing vocals), Billy Bremner (guitar, backing vocals), and Terry Williams (drums). 
Labour of Lust was recorded in 1978-79 at Eden Studio in London and Love in Helsinki and released in June 1979. Produced by Nick Lowe, the album includes all the personnel from the band Rockpile. The American version of the album has slightly different tracks than the UK version. (Yep Roc Records has recently reissued the album with all tracks from the U.S. and UK versions.) The album went to #32 on the Billboard 200 Albums chart. One single, "Cruel to be Kind," was released from the LP. It went to #12 on the Billboard Hot 100 Singles chart. 
Nick Lowe is a British singer, songwriter, musician, and producer. He started his professional career in 1967 with his high school friend, Brinsley Schwarz, whose band would become one of the kingpins of the British pub rock scene in the early to mid-1970s. Lowe wrote two of his best-selling songs while with Brinsley Schwarz: "(What's So Funny 'Bout) Peace, Love, and Understanding" and "Cruel to be Kind," co-written with Schwarz bandmate Ian Gomm. In 1975, Lowe started playing with Dave Edmunds, Billy Bremner, and Terry Williams in the band Rockpile. In August 1976, Lowe released "So It Goes," the first single on the UK punk rock label Stiff Records. Stiff was funded by a small loan from fellow pub rocker Lee Brilleaux from the band Dr. Feelgood. Lowe has produced records for The Damned, Elvis Costello, The Pretenders, Dr. Feelgood, Wreckless Eric, Mickey Jupp, Carlene Carter, and the Fabulous Thunderbirds. As a solo artist, he has released 14 studio albums, three live albums, six compilation albums, three EPs and 23 singles. He released six albums with Brinsley Schwarz, one album with Rockpile, and one album with Little Village. He continues to record, produce and tour.